Aly Nazerali's passion for international business and his drive for success were formed early in his life.  Born in Kenya and raised in the Congo, Aly Nazerali earned his B.A. in Economics and Islamic Civilizations and a MBA in Finance and International Business from Columbia University at age of 20.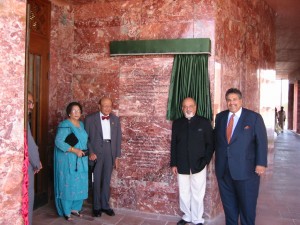 Conducting business internationally certainly requires strong communication skills, but being able to speak the language is a huge plus.  Aly Nazerali's success can in part be attributed to the fact that he is multilingual with fluency in French, Spanish, Italian, and Portuguese, as well as Hindi, Urdu and Gujerati. In addition he has a working knowledge of Swahili and Arabic.
Career highlights include: 
In 1975, Aly Nazerali was hired by GTE International, a large American  telecommunications company (now part of Verizon) as a financial analyst based in Boston. He was subsequently transferred to Algeria as in-country manager of a $235 million project to build what was at the time the largest electronics plant in the world under one roof. The project involved training 5,000 Algerians in various disciplines, and coordinating more than 20 subcontractors ranging from civil engineering to building semiconductors. During this period, GTE was awarded another contract to build 14 domestic earth station facilities to provide telecommunications, television and radio in remote regions in the Sahara, and two additional stations in the nearby countries of Mali and Niger. By 1979, the total value of the various contracts approached $1 billion.
In 1979, he joined CFE S.A. one of Belgium's largest construction companies as Regional Director for North Africa and the Middle East. He was also appointed to the Board of FCT S.A. a consortium of Belgian engineering and construction companies to market and develop large infrastructure projects under the Belgian flag in Africa and the Middle East. Aly Nazerali traveled extensively throughout North Africa and the Gulf, and was successful in being awarded several large contracts in Algeria, Egypt, Saudi Arabia, and Iraq.
From 1982 to 1984, he was employed by the Gulf Group based in Geneva, and was posted to Luxembourg. Aly Nazerali was responsible for developing the commercial activities of two recently acquired Dutch trading companies based in Rotterdam which had significant presence in Africa, the Middle East, and Asia. He gained considerable experience in barter and counter trade while with the Gulf Group and was required to travel frequently to Iran, India, and Pakistan.
In 1984, Aly Nazerali left the Gulf Group to found AIM S.A., a brokerage firm specializing in commodities, futures trading, and portfolio management. AIM was a member of the Luxembourg Stock Exchange and rapidly became the largest non-bank financial services company in the country.
In 1988, he returned to North America and became a principal of Global Futures Corp., a Vancouver-based commodities futures trading firm where he launched Canada's first mutual fund specializing in commodities and financial instruments which by 1991 was rated as the best performing fund in Canada.
Since 1991, Aly Nazerali has been active in the venture capital business financing and promoting natural resource, telecommunications, software, and biotechnology projects with a view towards ultimately listing them on exchanges in the United States, Canada, the UK and Germany. His team maintains offices in Vancouver, Sao Paulo, Zurich, Geneva, Lugano and Dubai.
In the course of more than 30 years of experience in international business, Aly Nazerali has developed extensive diplomatic, interpersonal and conflict resolution skills through his dealings with governments and multinational enterprises internationally.  He has proven his ability to motivate and lead multidisciplinary teams in challenging situations.